Is now a good time to buy an electric car?
We all know that electric vehicles (EVs) are here to stay. As battery technology continues to advance at a fantastic rate and public infrastructure increases month on month, more drivers are choosing to change to electric. Things are moving fast but is the best yet to come? Should you wait?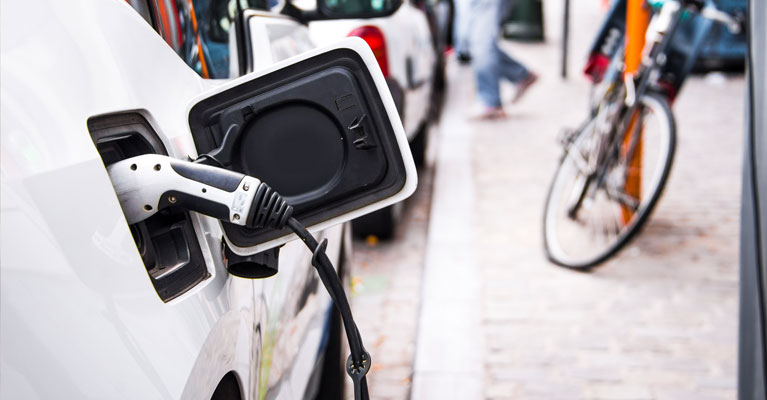 Rapid charging is here
Rapid chargers can give you up to 80% charge in 20 to 40 minutes.
In 2020, the UK government announced that a driver is never more than 25 miles away from a rapid charging station along England's motorways and major A roads, including an average of two rapid charging points at motorway service areas. More have been rolled out since, and by 2023 they're expecting to have at least six high-powered, open-access charging points at motorway service areas in England, with spacious locations having as many as 10-121.
In Wales, the plan is to provide a charging network with 30,000 to 50,000 fast chargers and 2,000 to 3,500 rapid/ultra-rapid chargers2. And if you're in Scotland, the average distance from any given location to the nearest public charging point is 2.78 miles with over 200 being rapid chargers.3
All-electric charging stations are also popping up to the delight of EV drivers everywhere. The first of 100 opened in Braintree, Essex in 2020. Operated by Gridserve, the Braintree Electric Forecourt® enables 36 electric vehicles to be charged simultaneously. High-power chargers can deliver up to 350 kW of charging power, so you could get a range of 200 miles in under 10 minutes
Take a look at Zap Map's map of charging points in the UK. You can filter for rapid charging, find points near your frequently visited places, and get real-time updates about any problems with the chargers on your route.
...and it's getting cheaper
Take advantage of a money-saving subscription with one of the major charging providers or take advantage of packages that include parking and home energy discounts. The market is booming with options and offers to choose from.
Weigh up your charging needs and solutions
Many EV owners happily charge their cars at work or at rapid charging stations on the go. Lampposts have been converted into charging points and new technology like pavement charging is on the horizon.
Getting set up to charge at home is a no-brainer if you have off-street parking (which can be a luxury in some cities!). Running a cable from your flat to your car shouldn't be done. There are restrictions in place to avoid blocking pathways, and above all, it's a health and safety hazard which could get you in trouble with the law.
The good news? You now have plenty of options if you've got your heart set on charging at home but don't have off-street parking. A number of providers and councils will look into installing charging points. If you don't want to wait, the answer could be right next door in the form of community charging solutions. Apps like Co Charger can connect you with home chargers near you. Think of it like renting or sharing. Just book a convenient slot and head over. You might even make a new friend in the process.
Are super batteries on the horizon?
In 2021 most electric cars are powered by lithium-ion batteries, but the race is on to develop the perfect car battery for the fast-paced lifestyle. From aluminium-air to graphene, new types of batteries are constantly in development, but experts predict the transition to solid state batteries is imminent. The difference is in the name – lithium-ion batteries use a liquid electrolyte whereas the next generation batteries use a solid one. Solid state batteries are said to charge faster and last longer per charge, in addition to having a better safety profile.
That said, unless you regularly do long journeys, today's batteries that can easily go 200 miles on a single charge should be more than sufficient. And when you do take a longer trip you can recharge your own energy levels while you give your car a boost – The Highway Code recommends at least a 15-minute break after every two hours of driving.4
Is it worth waiting for car prices to come down?
We can't predict what the future holds but we can say one thing – if the higher upfront cost of buying an EV is putting you off, consider what you'll save on fuel, tax and maintenance. Most EVs achieve four or five miles per unit of electricity. This is about 1p to 3p per mile compared to the 10p to 15p per mile you'll spend with a modern efficient engine.
Don't forget, currently in 2021 EVs are exempt from vehicle tax and the Clean Air Zone/Ultra Low Emission Zone charge. To top things off some manufacturers and dealers even offer an incentive for trading in a regular car for an electric one.
When working out the cost of your new car, bear in mind that home charging units will need to be added to the price.
1 Government vision for the rapid chargepoint network in England - GOV.UK (www.gov.uk)
2Plans to boost electric charging points in Wales | GOV.WALES
3Statistics on the number of electric vehicles in Scotland: FOI release - gov.scot (www.gov.scot)
4 Rules for drivers and motorcyclists (89 to 102) - The Code - Guidance - GOV.UK (www.gov.uk)